Are you an artist who has just sold a painting to a customer living abroad? Or are you sending artwork as a gift to your beloved ones, or simply moving your collection to another place? In any case, shipping art can be quite a daunting task. Unless you learn all the tips and tricks on how to ship a painting.
Works of art are valuable and fragile goods. They can also be considered as oddly-shaped items, if, let's say, you're sending them rolled in a tube. That's why there are a few things to note when learning how to ship a painting.
But don't worry! Artwork shipping will be a piece of cake if you follow this comprehensive guide. So no more dawdling around, let's hop to it!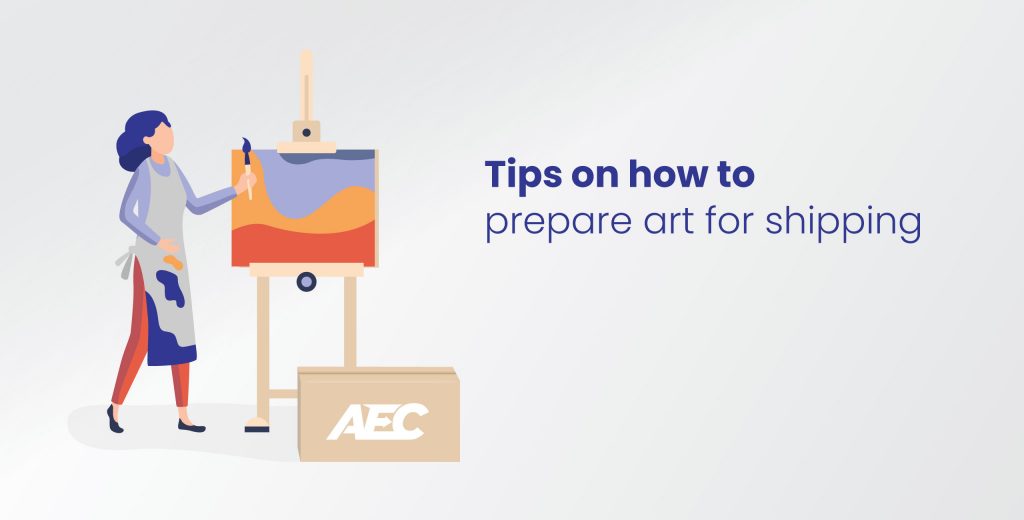 Buy materials for packing artwork
Shipping paintings requires careful preparation. Especially if your destination point is on another continent, as in the case of shipping to Germany from the USA. The road your artwork will cover will be long so you need to prepare it accordingly.
Start by buying art packing materials. Stuff that you'd use for fragile packing, such as bubble wrap, will be great here as well. But it's not enough. Before putting your artwork into a shipping box, you'll need to wrap it separately to protect it from risks that come with international package shipping.
Glassine paper is an excellent choice for this purpose. It'll protect the painting from moisture and dirt. You can also get plastic sheets or acid-free tissue paper as an alternative. Styrofoam and cardboard sheets with corner protectors will come in handy, too.
Buy materials for external packaging, such as a cardboard or telescope box. Grab yourself a pair of cotton gloves, some artist tape and you'll be ready to start preparing your artwork for shipping overseas.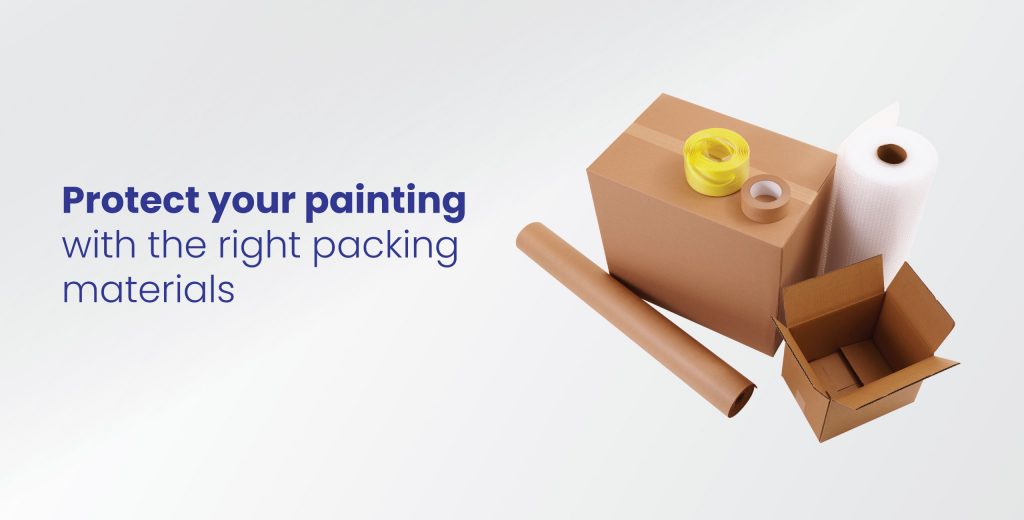 Pack your painting securely
The first step in learning how to ship a painting is proper packing. It's recommended to use cotton gloves during the process to avoid the artwork getting in contact with natural oils on your hands.
Start by wrapping your painting with glassine paper or its alternatives. Cut a piece of protective paper that's slightly larger than the artwork. Put the painting on it face-down. Fold the paper and secure it with tape. Be careful not to stick the tape on the painting. It could leave a stain.
If you're still worried that your painting might get damaged by humidity, you can put it into a plastic bag. It's actually a good idea to waterproof your parcel, especially when shipping to Europe from the USA.
Shipping a painting internationally will be safer if you add more layers of protection. Now that you have covered your art with glassine paper and a plastic bag, wrap it in bubble wrap. You can also sandwich your painting between two sheets of styrofoam or cardboard. They'll make a sort of a second, inner box for your painting.
Finally, load your artwork into the shipping box. Be careful to pick a box of the right size. It should be slightly bigger than the painting to fit all the cushioning materials. For framed art, add corner protectors. To ship paintings safely, use separate boxes for each piece of art.
You have put a great effort into packing your art securely. It'd be a pity if your parcel still got ruined due to rough handling. To prevent that and to ensure the best experience when shipping artwork, be sure to use a reliable courier, such as AEC Parcel Service, and don't forget to add warning labels.
You can use tape with printed letters or write the word "FRAGILE" yourself. It's best to put the warning sign on all sides of the shipping box so that it easily catches the eye of the courier. You can also mark your parcel as "GLASS" if you're shipping framed paintings.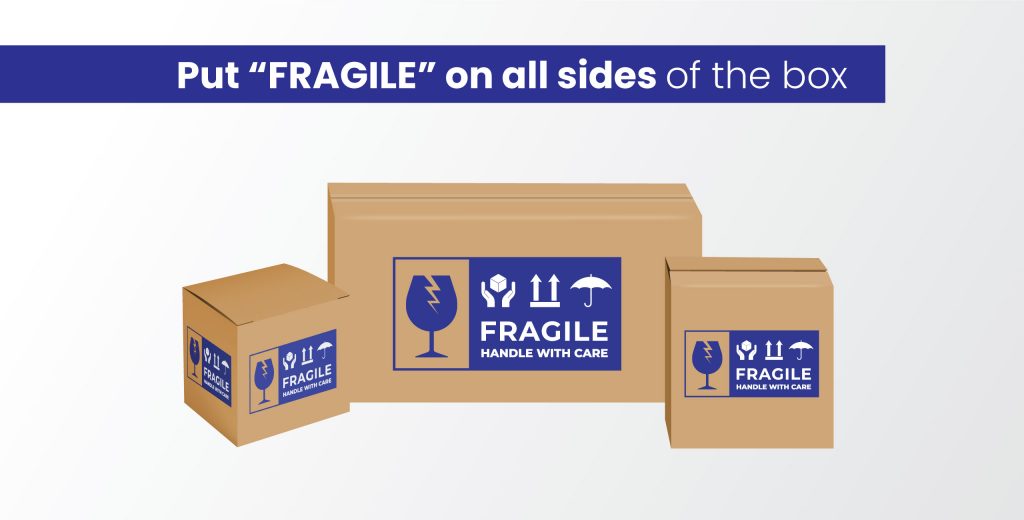 Choose a dependable carrier for shipping art
It doesn't matter if you're learning how to ship a laptop, a book, or any other kind of item. Choosing a reliable carrier is a very important step. The same is true for selecting an art shipping company.
Most international shipping companies will be glad to handle your package delivery. But you need to be prudent when choosing to avoid scammers and unprofessional service providers. An expert carrier will advise you on how to pack art for shipping and even help you to do it. Whereas an unprofessional one might not be interested in providing you extra help with preparing the package.
And while works of art are valuable goods, it doesn't mean that you should overpay for shipping them. So take your time to find a carrier with reasonable shipping rates, such as AEC Parcel Service. We offer premium services at affordable prices. Get an instant quote with our handy shipping rates calculator.
How much does it cost to ship a painting?
When you're wondering how to ship a painting, you're probably also worried about the price. The cost of shipping art varies depending on the weight and size of your parcel. Therefore, sending framed or large paintings will cost more.
That's why you might want to consider shipping a painting without the glass frame. It will not only be cheaper, but also safer. Glass can break easily and damage the artwork as a result. It might be better to avoid putting them together in a box, if possible.
The cost for mailing a painting overseas also depends on the destination country and the chosen shipping method. If you're shipping to Ukraine from the USA, it'll cost more than when shipping to Canada. In such a case, you can still save some money by selecting the longer, but cheaper economy shipping.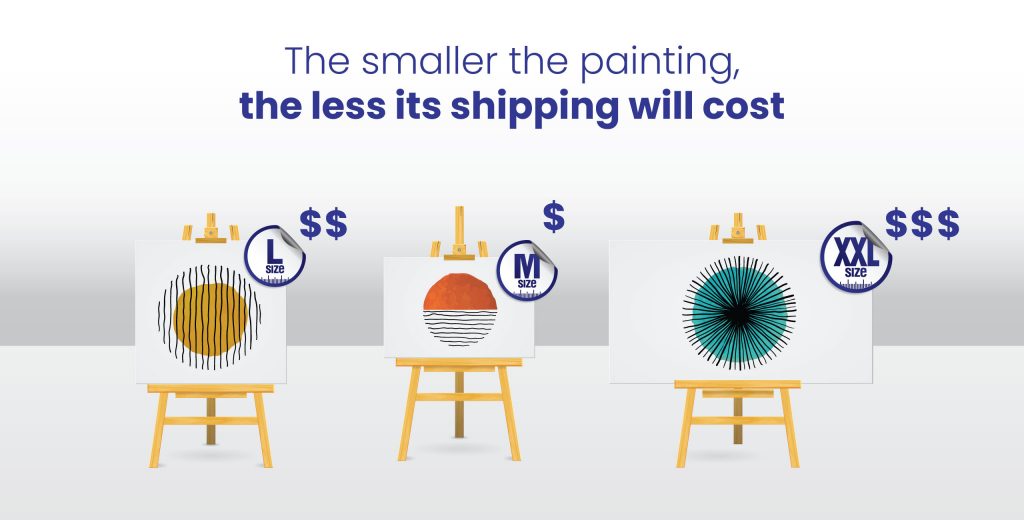 What else to note about shipping artwork internationally
When using services for international parcel shipping, you need to be careful to write down the address properly. An incomplete or incorrectly written address may lead to a lost package. If you're unsure how to write it, check how addresses are written in your destination country.
If you're shipping paintings internationally, you'll also need to deal with customs. This procedure sounds complicated and confusing, but it won't be if you research the customs regulations of the country you're sending a parcel to. For instance, if you're shipping to Poland, you might need to provide different information than when shipping to Russia.
Also, be careful of size and weight limitations. If your packed painting exceeds them, it may not be eligible for international package shipping.
The best way to ship a painting
If you're still unsure how to ship a painting easily, count on AEC Parcel Service. We will handle your artwork with utmost care. Our customer support will always be there to consult you, if you need help at any step of the shipping process.
We have a vast network of package drop-off locations and offer additional benefits. With us, artwork shipping will be simple and affordable.