Christmas, Easter, Valentine's Day, anniversary, birthday.

Doesn't matter what the day is, we all want to make our loved ones happy when it comes. And what could be more pleasing than receiving a present? But if you're shipping gifts to Europe from the USA, it can become a bit complex.
Cheering your friend or relative with a gift is more difficult when there's an ocean between you two. Nowadays considerably more people are moving and starting a new expat life in foreign countries, for both personal or business reasons. So you might have your loved ones living in different places overseas, but you still want to please them with a gift when the right moment comes.
Since shipping to Europe from the USA raises many questions about the process itself and shipping rates, some fear using it as a way to greet and connect. But once you get to know it, you'll see that sending presents abroad is simpler and cheaper than you think.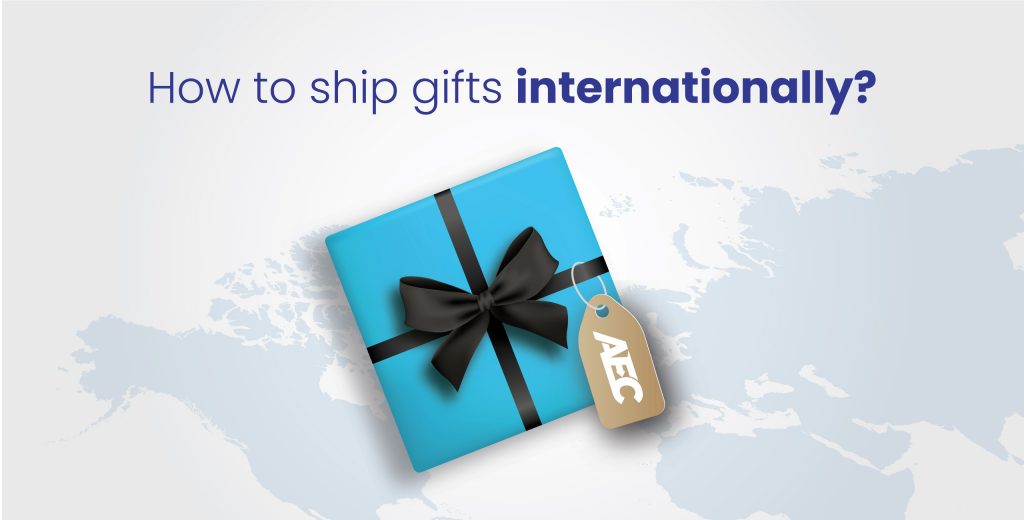 To make things easier for you, we've put a list of tips for sending packages to Europe from the USA. So let's get straight to the things you should consider. 

1. Choose parcel delivery company wisely
Probably, this is the most important part of the process.
If you want your gift to reach its receiver on time and in excellent condition, choosing a reliable international delivery company is a must.
Simply put, the success of your international deliveries stands purely on the company you choose. With a proper courier and its support on hand, your gifts will arrive safely, on time, not damaged, and without breaking your budget or getting on your nerves.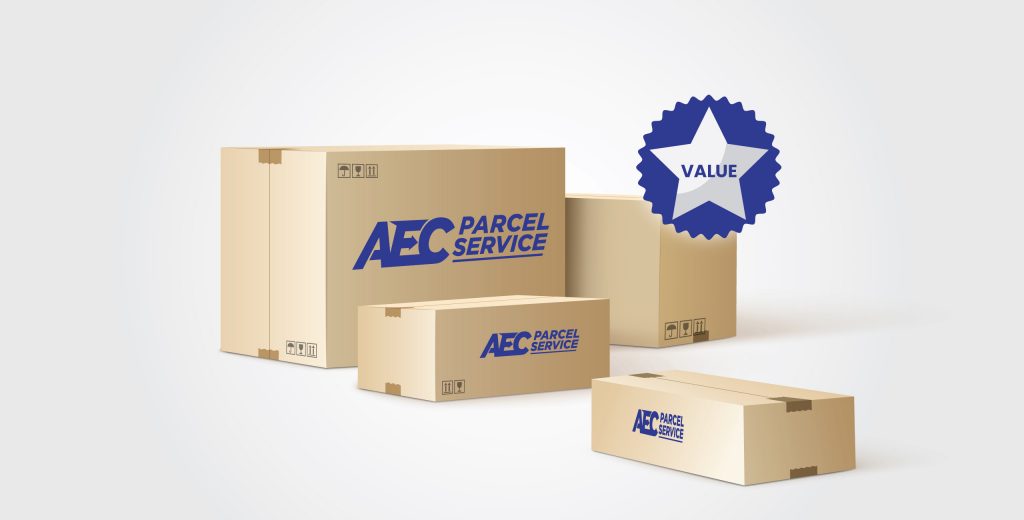 Your goal is to pick a courier to meet your needs, so be mindful of what you are going to get for the price you are willing to pay. Big-name couriers might be great for speedy processes but tend to lack attention to clients, are costly, and usually do not offer additional value. 
Home pick-ups, responsive customer support, convenient tracking tools, insurance options, and cheap shipping from the USA to Europe rates matter when sending packages. Here at AEC Parcel Service, we have everything to meet your needs. 
Find some more reasons why choosing us is the right thing to do.
Gift wrapping paper and ribbons are great, but it's no good for shipping.
International shipping requires careful attention to packing because during their journey, packages pass through many hands. But don't worry. You can keep the ribbons inside the package.
To pack gifts for shipping properly, here's what you have to do:
Pack items into a strong and undamaged box of a suitable size and form. A new carton box might be an ideal option.

Don't forget the internal packaging. Use bubble wrap, foam wrap, kraft paper, or other materials to prevent items from damage. It especially counts when packing fragile items.

Use strong and wide packing tape and securely seal your package on all edges.

Make sure there's no old labeling or misleading information on a box.

International package shipping requires careful labeling. The label should include information that the courier will need to deliver your package. Plus, a customs form might be required. Your shipper will inform you of the exact requirements for labeling and customs forms.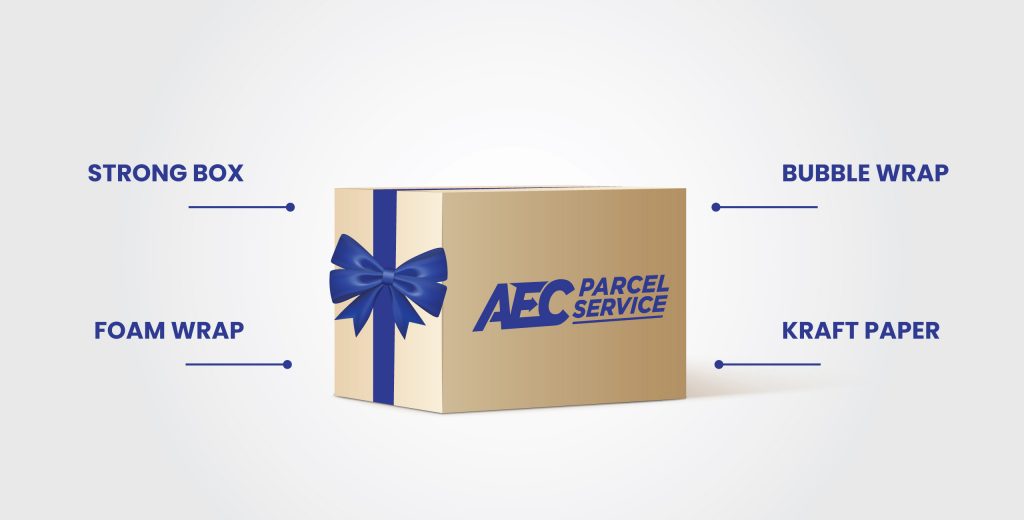 3. Know your shipping to Europe options
When shipping to Europe from the USA, make sure you are familiar with shipping options to get the best out of it.
Different shipping companies offer different shipping methods. As for shipping speeds, express and economy are the two most common options. However, the price gap between them is usually huge when you ship with large courier companies. At AEC Parcel Service, we offer both express and economy shipping methods at actually affordable rates. 
Keep in mind that you can consolidate your gifts when shipping overseas. If you pack several gifts for different persons in the same box, it might save you money. Even so, only one person can receive a parcel, so be sure it won't cause any misunderstanding. 
Consider what options suit your budget and needs and feel free to discuss them with our customer care team.
If the gift you're sending is valuable, a smart thing to do would be getting insurance.
When shipping from the US to Europe, there's always a small chance something unexpected might happen. Parcel insurance will protect your goods if a package gets damaged, lost, or stolen. But it will usually cost extra. At this point, you may wonder if parcel insurance is really necessary for the gifts you are sending to Europe.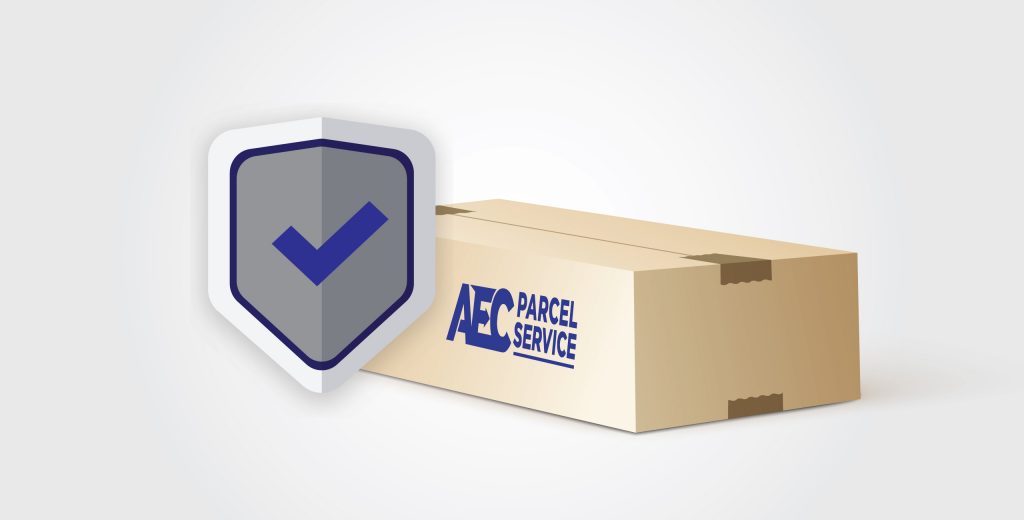 We say it's not worth the risk of sending gifts without insurance. 
That's why AEC Parcel Service gives you peace of mind by providing parcel insurance for free up to $100 worth of goods. In most cases, it is enough to cover the value of the gifts you are sending abroad. But if your packaged items are worth more than this amount, we have other insurance options at affordable rates.
To successfully ship gifts overseas, it is crucial to comply with the rules of the destination country.
When it comes to shipping to Europe, each country has certain regulations on cross-border parcels. Some of them have restrictions on the value of the gift and charge duty while others don't. To avoid any delays or extra expenses, it is worth getting an understanding of shipping rules and restrictions. 
Also, be prepared that not everything you want to ship as a gift can be shipped internationally. Every country owns a list of restricted and prohibited items and you'll be surprised how many items in those lists are considered as a great present.
For example, cash, furs, and tobacco are not allowed to ship in most European countries. So getting slippers stuffed with cash and decorated with fur pom poms or a cigar for a present are bad ideas. Also, you may not be allowed to ship alcohol of any kind including perfumes containing alcohol. The list of restricted and prohibited items in each country is different and tends to change, so always keep an eye.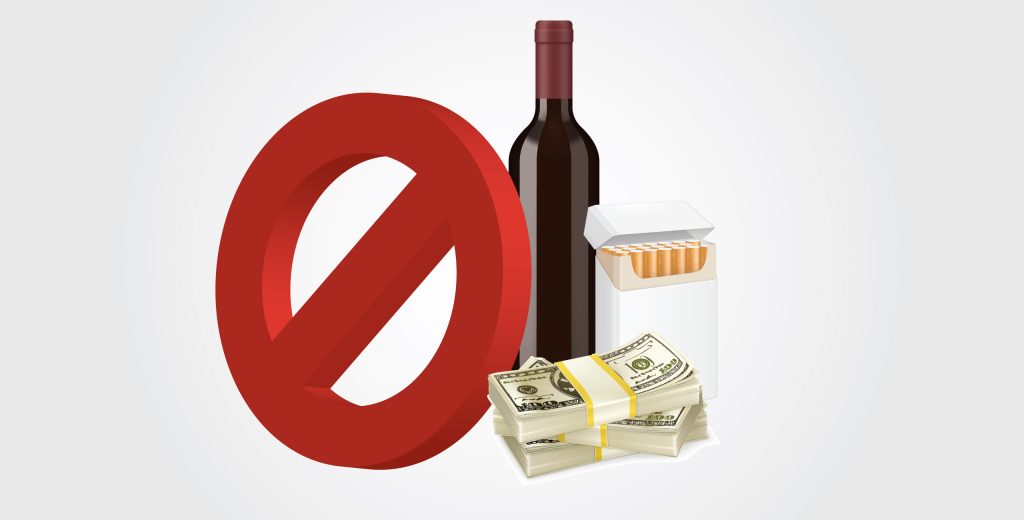 6. Make shipping to Europe easy for yourself
Gifts shipping to Europe from the USA doesn't have to be difficult or confusing. And we're here to make it easy for you.

Here's what we offer:
Responsive and caring customer support

Free parcel insurance

Free pick-up services

Express and economy shipping options

Drop-off locations

throughout the US and Canada

24/7 real-time detailed parcel tracking

Handy price calculator

Always affordable shipping rates