Shipping books is quite easy. They have a perfect shape for packing and fitting into a box. But the true challenge lies in finding the cheapest way to ship books. And if you need to send books overseas, it can become a real headache.
Good thing that all you need is to master some key aspects and you'll be shipping books cheap in no time! Interested? Let's dive in and figure out the easiest and cheapest way to ship books overseas together!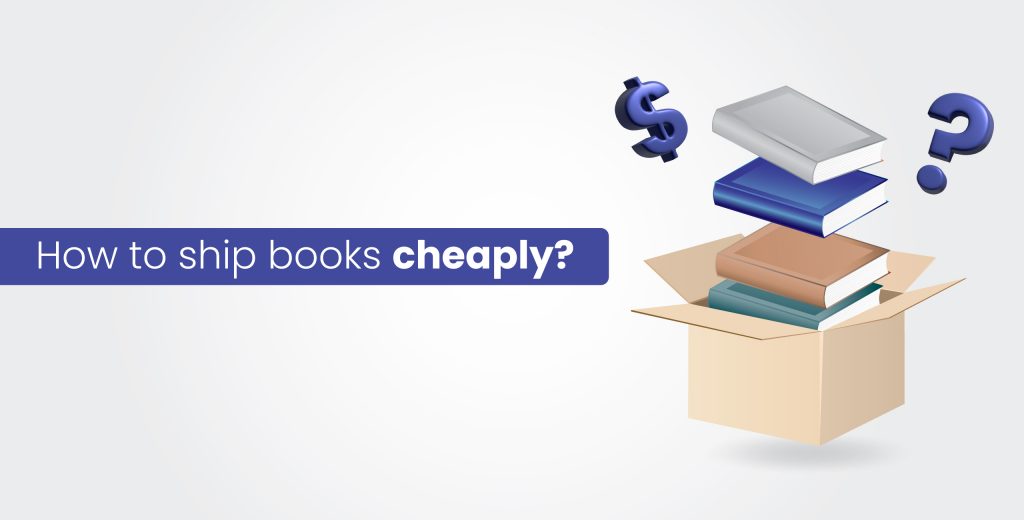 The cost of shipping books internationally
First of all, you need to get an idea about how much sending packages overseas might cost. You can always consult a shipping calculator, but you'll soon notice that usually the cost of international package shipping is determined by the weight and dimensions of a package. The heavier the parcel, the larger the price.
But not everything is as straightforward when you're looking for the cheapest way to ship books. Some books are thin and light. Others are thick and hefty. That's why you should pick different approaches when shipping them. It'll help you to minimize the cost of shipping books.

Send single and multiple books differently
When it comes to international package shipping, it's commonly advised to put your items in a rectangular, cardboard box. And it's true that it's one of the most reliable types of packaging for shipping overseas. But a box is not the only packaging that can be used for shipping books.
If you're sending a single book that is not overly heavy or large, it is cheaper to use an envelope. Nowadays you can find envelopes of various sizes and with internal padding. They're a great way to ship individual books. They're light and won't increase the overall weight of the package.
For shipping multiple books, a box is a better choice because you cannot fit more than one thick book in an envelope. It might be a different case, if you're shipping comic books though. Single comics issues are usually pretty thin and more of them could fit into a padded envelope. The key, when packing comics for shipping, is to sandwich them between pieces of cardboard for extra safety. And then put them into the padded envelope.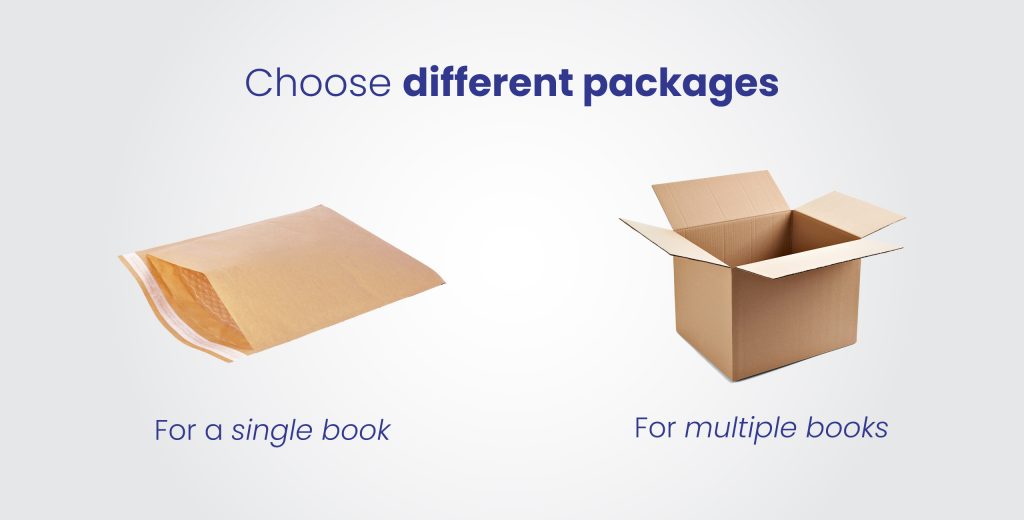 Consider the weight and dimensions
The cheapest way to send books is to combine them. If you're sending multiple books, you have to be smart and creative to pack them efficiently. It's great if your books are similar in size and weight. You can simply put them on top of each other in a shipping box. But if you're shipping books of different width, length and weight, the placing becomes super important.
Imagine that you're sending books as gifts to Europe. You want them to arrive unscathed, but you'd also wish to save on package shipping. Then, the best way to ship books is to be careful of the overall weight and dimensions of the parcel.
Remember that shipping boxes also have varied dimensions. You can get a box that's bigger in length or width, but is of low height. Or a box that's bigger in height, but smaller in length and width, depending on which one fits more of the books you wish to send. Try to avoid very deep boxes. Bigger height usually increases the overall volume of the package and that may add to the cost of shipping books overseas.
Be careful not to exceed the dimensions required for international parcel shipping as your package may not be eligible for it anymore. Pay close attention to the weight of the package, too. You won't be shipping books cheap if your box surpasses the weight limit.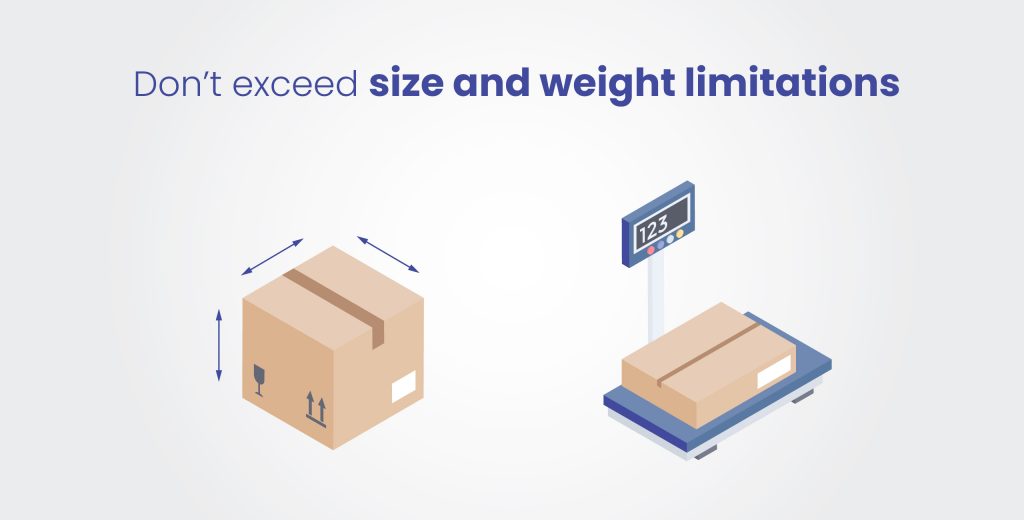 Follow the packing rules for shipping books
It may seem that the cheapest way to ship books internationally is to use little packaging so as not to add to the weight of the parcel. But that's not the case if you're shipping to Germany from the US or to Europe in general. The road is long and risky. And there's nothing more infuriating than receiving your book with folded-down corners or a damaged spine.
Here are some tips on how to pack books for shipping:
Wrap each book separately. It's best to use plastic materials to waterproof your books. A simple plastic bag will do.

You can also use pieces of cardboard and put the book between them to protect it from getting bent.

If you don't have spare cardboard at hand, wrap your books in brown paper or newspaper. It'll serve as means of protection as well.

When sending packages overseas, it's important to use plenty of internal packaging. Pay the most attention to protecting the book corners.
Keep in mind that books are not as sturdy as they seem at first glance. That's why you shouldn't hesitate to adapt even the tips for packing fragile items.
Get insurance for rare and very expensive books
International package insurance is handy when you wish to have more safety. It's great for fragile packages and for high-priced goods. It covers the loss in the case of an accident during the package delivery. And most importantly it makes you feel relaxed.
If you're sending rare and expensive books, it's a no-brainer to insure them like any other item of high value. But when it comes to ordinary books, you might ponder whether it's worth getting insurance and paying extra.
AEC Parcel Service offers the perfect solution to this dilemma. We give free insurance which is already included in the shipping cost. That means you will be getting the benefit of leisurely waiting for the complete package delivery without paying more.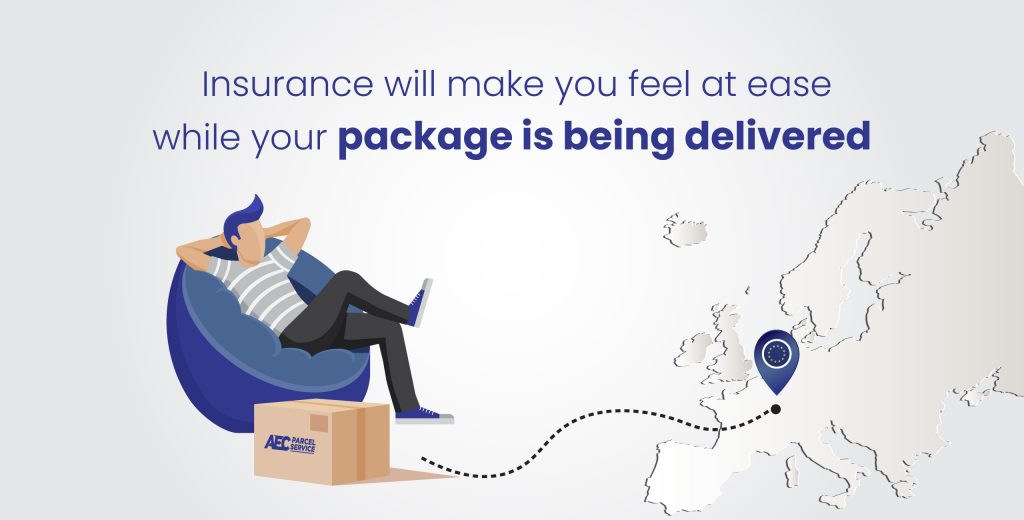 Pick the right international shipping service
You have your books packed and ready for delivery. It's time to select the carrier. Do it responsibly. When choosing an international shipping company, don't decide based only on the offered shipping rates. You need to be cautious and check if the service provider is reliable. Remember that shipping books cheap shouldn't mean poor service quality.
Plus, don't forget whether your chosen carrier truly delivers to your destination. For instance, if a company is shipping to Europe, it doesn't necessarily include shipping to Ukraine, Moldova, and other non-EU countries.
If you're unsure how to choose the best parcel delivery company, consider the perks the company is giving. It'll be easier to decide when you see the pros and cons of different international package shipping services.
The cheapest way to ship books overseas
All things considered, the easiest and the cheapest way to ship books internationally is probably leaving it to the AEC Parcel Service. We're specialising in delivering personal international packages and offer a reliable service.
For your convenience, we have plenty of package drop-off locations to choose from. And our prices are one of the lowest in the industry. What's more, you get 100 $ worth of insurance already included in the shipping cost. It'll keep your package safe and will help to minimize the cost of shipping books.