Having package drop-off locations next to your home or office, online tracking, and other perks make international package shipping quite easy. But what if your item is not ordinary in its shape? Oddly shaped items can make parcel shipping a bit more difficult. And yet, it's still manageable with proper packing.
An oddly-shaped item can be anything that is not square or rectangular in form. Look around and you'll see many pointed, long, circular things. Cups, candles, even car parts, or fishing equipment, and various other collectibles all have irregular shapes. They all require extra care when using international package shipping.
Feeling confused about how to pack your precious oddly shaped items? Here are the top 6 tips that will breeze you through the process.
Let's jump right in.

A rectangular, cardboard, or wooden box is the best choice for packing oddly shaped items. It has several advantages. A firm base will keep your parcel stable during transportation. A regular box adjusts well with other packages. It's a big plus in package shipping. Remember that your package never travels alone!
Choose a slightly bigger box. It'll ensure that all parts of your irregularly shaped item fit within the external packaging. Some space should be left on all sides of the box. You can also use another box for extra outer protection. But do not forget to fill in the remaining empty space with internal packaging materials. It's crucial when shipping to Ukraine, Lithuania, and other faraway destinations.
If you can't find the right box, be creative and construct one yourself. It is easiest to make a bigger box out of the two smaller ones. You can remove the unnecessary lids and glue the boxes together. Be sure to properly seal your custom-made box. Its base should be strong to bear the pressure of lifting. Be extra cautious and examine the sturdiness of your custom-made box before handing it to the parcel service company.

2. Pay attention to internal packaging
Safe package delivery greatly depends on internal packaging. Cushion the box as much as possible. It'll protect your fragile and irregular items. The following materials can be used:
Bubble wrap

Packing peanuts

Air cushions

Old newspapers

Crumpled paper

Towels
Start with the bottom of the box. Place a layer of padding. You can use materials specially made for international package shipping, such as air cushions, or anything that you have at hand, e.g. crumpled paper. The next step is to wrap the items. Cover them in bubble wrap or fold them in a newspaper. Do this for each item separately.
Then, use fillers to fill in the empty space. It'll keep oddly shaped items from moving inside. And finally, add a protective layer on top of the item before closing the box. It'll ensure that the insides stay stable during the international shipping process. It'll also help to protect your items from being crushed if a heavier parcel is put on your package.
To be extra sure, shake your package a bit. You'll see if the items truly do not tumble inside. It's super important when sending gifts overseas. It'd be a shame if presents didn't reach the recipient in one piece.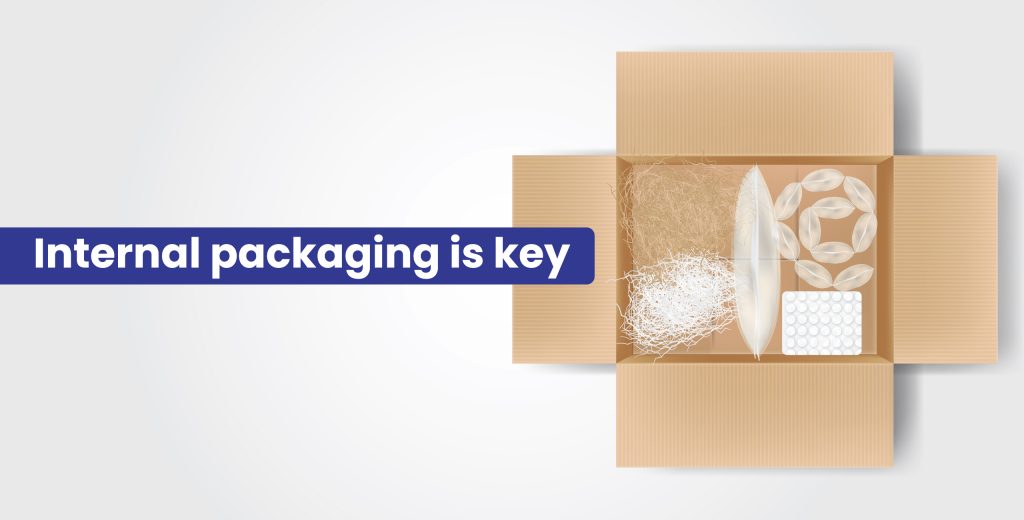 When shipping internationally, you have to pad all sharp edges. It's a safety requirement. The pointed edges cannot be exposed during the shipping and delivering process. The item could get damaged. Or the edges could harm someone. We all want international package shipping to be safe for everyone, right?
If you can, dismantle the pointed item. Wrap each part in a protective layer separately. If your item is a one-piece, cover the blunt of the edges with a pad. It can be a cardboard piece or small polystyrene.
Don't forget to consider the sturdiness of the box and padding. The sharp edges shouldn't be able to penetrate them during shipping. If needed, strengthen the sides of the box with thick padding.
4. Waterproof your package
If you're shipping internationally, it won't hurt to protect your items from extra dangers. Especially, if your destination country is in another continent, e.g. in the case of package shipping to Poland from the USA. The distance is big and your package could get damaged by weather conditions, including humidity and water.
If you're sending products sensitive to water, put your items in a plastic bag. It won't allow the moisture to reach them. To prevent damage by humidity, add a moisture absorber. A simple silica gel packet will do. But don't worry too much about it. Packages rarely get damaged by humidity, if you choose a reliable international shipping company, such as AEC Parcel Service.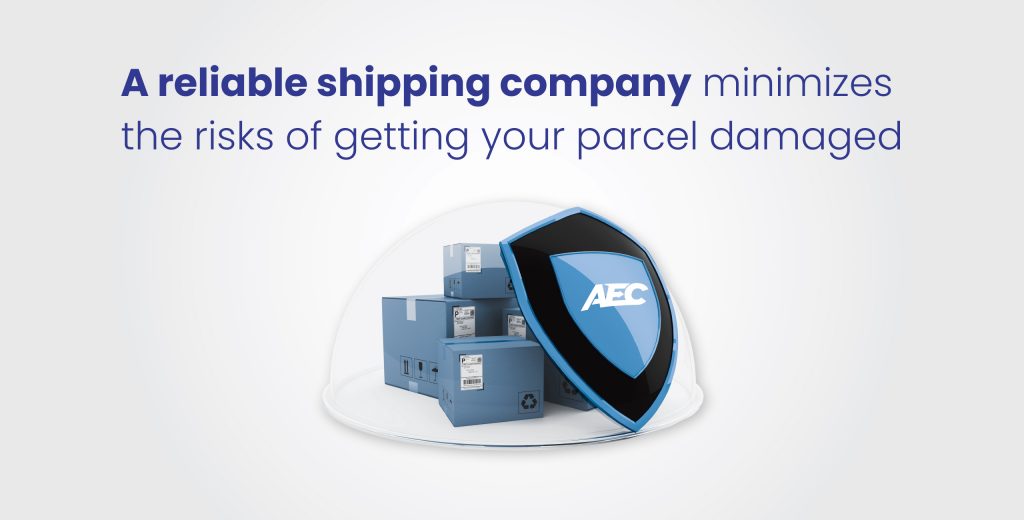 Also, consider insuring your parcel, in case anything goes wrong. Insurance makes international package shipping even more dependable. And if you're shipping with AEC Parcel Service, you already get 100$ worth of insurance included for free! Or you can choose to pay extra insurance for even higher safety. It makes AEC Parcel Service one of the best couriers for fragile items.
5. Label your package properly
Are you worried that the courier might not treat your parcel with utmost care? Then inform the shipping company of the specifics of your package. The best way to do that is to stick the label "FRAGILE" on a clearly visible spot on the box. This way people who handle the international shipping procedures will know that the package requires additional care.
Some items may be sensitive to being upside-down. In that case, you can use the label "This Side Up". It'll help the courier to know how to carry your box. Stick the labels with strong glue. Find a flat surface for them. If you can't, then paste them with transparent tape. You can also use stamps.
Keep in mind that it's best to have the labels on more than one side. That way the signs can be seen from every angle. If the box you're using is not new, don't forget to remove old labels. You want the carrier to focus on the specifics of the current delivery.
Last but not least, pay attention to the address label. Make sure to write the address correctly. When shipping internationally, it's best to use printed labels generated by the international parcel service provider. It guarantees clarity and will coincide with international package shipping regulations.
Different shipping companies have their own label layouts and may require different information. Be sure to follow their instructions and don't forget to check your package as fragile, if your items need careful handling.
The best way to handle international package shipping is to leave it to the experts. AEC Parcel Service excels at delivering items of any kind of shape. All you have to do is to inform us of your needs. We, at AEC Parcel Service, will do our best to fulfill them.
We are eager to provide you and your package with delicate care. To do that we offer a great range of package drop-off locations. You'll have no trouble finding the nearest spot to leave your package.
Oddly shaped items usually require bigger boxes and heavier padding. This naturally influences the shipping cost. But don't fret. You can still ship them fairly cheaply with AEC Parcel Service. We offer one of the lowest prices in the industry. Get the shipping cost now with our convenient shipping rates calculator.